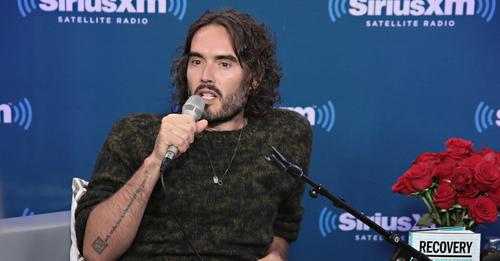 When comedian-turned-conservative influencer Russell Brand preemptively rejected sexual assault allegations on Friday, he alluded to a conspiracy theory that swiftly gained traction among his supporters and other far-right voices. This theory suggested that the media had ulterior motives for disseminating stories about him.
In his preemptive video response to the investigation, published by The Times and Channel 4 on Saturday, which detailed four sexual assault allegations against him, Brand asked, "Is there another agenda at play?"
Distrust of the media has become a fundamental belief for many conservatives over the past decade, and Brand's reference to this skepticism quickly garnered support from members of his online conservative community, most notably Elon Musk and Tucker Carlson.
The Times released its investigative report on Saturday, conducted in collaboration with The Sunday Times and Channel 4, in which women accused him of sexual assaults allegedly occurring between 2006 and 2013. Brand's management agency, Tavistock Wood Management, promptly terminated their association with him, stating that they had been "terribly misled by him."
Brand posted his response video on YouTube and the conservative video platform Rumble, hinting at the forthcoming report and cautioning his followers about its accuracy. In his video, Brand vehemently denied the allegations, maintaining that all his past sexual encounters had been consensual.
On Tuesday, YouTube announced that it had demonetized Brand's channel due to the sexual assault allegations. The online platform explained that it had "suspended monetization" on Brand's channel for violating its "creator responsibility policy."
This decision is likely to impact Brand significantly, as he boasts 6.6 million subscribers on YouTube, where he has promoted conspiracy theories regarding topics such as Covid-19 and the Ukraine conflict. He also has 11.2 million followers on X (formerly Twitter) and 1.4 million on Rumble, where he ranks among the most-followed accounts.
However, other conservative internet figures have followed Brand's lead, using conspiracy theories to discredit the allegations. They have found a welcoming audience on platforms that have become less stringent in their content moderation.
X's owner, Elon Musk, and former Fox News host Tucker Carlson swiftly defended Brand, suggesting that the allegations were concocted in response to Brand's criticism of the media.
"Of course. They don't like competition," Musk replied to Brand's video.
Carlson more explicitly linked the allegations against Brand to his political beliefs.
Carlson's words set the stage for what was to come: criticism of pharmaceutical companies and questions surrounding the war in Ukraine. Neither Carlson nor Musk delved deeply into the allegations. The New York Times reported that the four women who leveled sexual assault accusations against Brand, as outlined in their investigative report, were previously unacquainted. The report further detailed how the journalists had dedicated multiple years to conducting interviews with hundreds of individuals.
Several conservative influencers, including Ian Miles Cheong, joined the chorus of dissent. Cheong drew parallels between the allegations against Brand and those against other high-profile men. Brand, once a mainstream comedian known for his roles in movies such as "Get Him to the Greek" and "Forgetting Sarah Marshall," has in recent years gained popularity in conservative circles. His direct-to-camera videos, where he takes aim at various far-right targets, have contributed to his rise in this sphere.
Brand has made media criticism a central theme in his messaging, emphasizing his intention to "critique, attack, and undermine the news" in his response video. These critiques have struck a chord on X, particularly among Musk and his allies, who are also staunch media critics. Musk voiced his support for Brand in multiple tweets, stating on Sunday night, "I support Russell Brand. That man is not evil."
Andrew Tate, a men's rights influencer facing trial in Romania on charges of human trafficking and rape, welcomed Brand into a particular club and tagged Brand's account in a post referencing "crazy allegations."
Jake Shields, a former UFC fighter who has shifted towards embracing conservative viewpoints online and has nearly 400,000 followers on X, made several posts regarding the allegations over the weekend. One of his posts insinuated that the Times article contained "false rape allegations," and he expressed a desire to see some of the accusers face lengthy prison sentences.
X's view count metrics, which had faced skepticism, indicated that many efforts to cast doubt on the allegations had gained substantial traction. The Times' own thread on X about the investigation received 15.5 million views, according to the platform, amounting to a quarter of the views garnered by Brand's preemptive video.
A search for "Russell Brand," still a trending topic on Monday, yielded posts that raised doubts about the allegations. None of the top 20 search results contained links to any reporting on the new allegations against Brand. Instead, the top search results for "Russell Brand" on X suggested that Brand was "'being attacked'" due to his views on Covid-19 and Ukraine. Many of these posts also criticized the mainstream and legacy media, alleging that they had labeled Brand as "guilty" without providing evidence for the allegations against him.