By Albert Nashon
The Slumcode Group was founded in the year 2006 in Nairobi's Eastland region. Its operations are mainly focused on the low income, densely populated neighbourhoods like Mathare, Kariobangi and Dandora and Eastleigh.
This initiative has helped hundreds of young people find their place in life by directing their passion and purpose using Music, Dance, poetry, ICT, Leadership and Personal Development.
We use the principles of mentoring and coaching for self-help.
In 2006 we set up The Slumcode Centre in Huruma.
So far we have partnered with the following vital organizations to boost our projects
Homeboyz Foundation
Huawei
National Bank
Nokia
Digital Opportunity Trust
Strathmore University
Safaricom
Today Slumcode is working on a grand idea dubbed #March2Greatness. The aim is to help to create awareness about our programs and help to mobilize resources and resource partners to assist in realizing a bigger dream of The Slumcode Innovations and Creatives Hub
For the #March2Greatness Campaign, the talented youth created a messaging video running on the Slumcode TV youtube Channel and used Mountain Climbing as a sport to mobilize hikers to take the Kilimanjaro challenge every December for three consecutive years. The program started in 2018 and it will take place every year until and 2020
This is an effort to fundraise creatively and involve global participants.
The Slumcode HUB, located on the fourth-floor of Olympia Gym Building at TENA estate, has been getting a facelift with every resource we realize, and many partners have joined to support the vision.
These include groups like United Through Sport – The Netherlands mobilizing Sports volunteers.
The group, Connection Ubuntu – USA was very instrumental in setting up our computer Lab through the CodeSpace Program
So far, the Slumcode impact is quite significant, because currently, a group of about 90 young entrepreneurs and students from various Universities and Colleges regards our rooftop facility as a home for Empowerment and Talent Growth.
How many people have benefitted so far?
Mr Solomon Ojalo, a key beneficiary of Slumcode Programs since high school is now The Programs Manager in charge of all Coordination and planning. He has been admitted to YALI and even worked with UN Projects
Poeta Dennis has become a seasoned Artists, and he is currently running The ArteastHUB, a platform that engages Spoken Word Poets
Manuel Arvin and Janet are now Trainers for the Worlds 1st Card-Based Entrepreneurship Game where Slumcode is the Country Implementers.
Albert Nashon – the vision bearer is now a Weekly online Entrepreneurship Mentor and Trainer at Amy Carriers Classroom alongside 13 other International Mentors.
Our vision 2025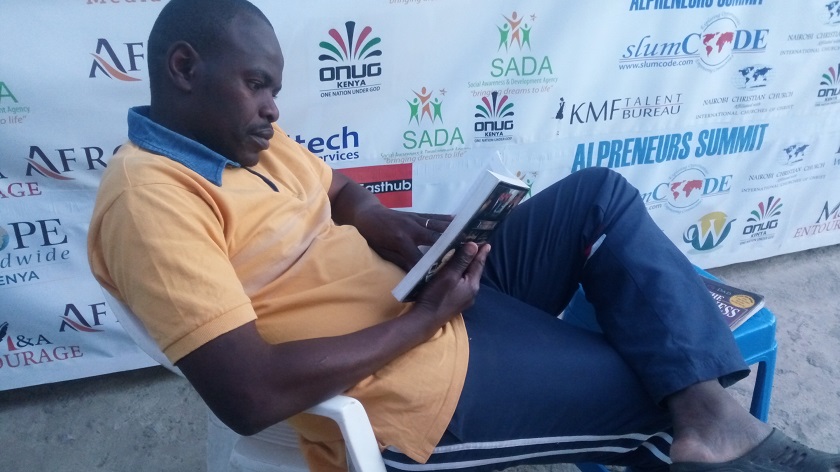 This Social Enterprise is not about to step back, and it is modelling its current facility into a one-stop resource centre. It is bound to grow and scale into one co-working space, attracting venture capitalists via its model concept which we plan to replicate as a franchise in various developing countries.
We expect to get more dedicated partners and collaborators for our other programs such as;
Slumcafe (Sports and Languages),
WiFED (Child Empowerment and Support),
Slumidia (Creative Imaging and Documentation)
These and more programs to come will help to accommodate as much talent as possible in the long run – hence creating jobs and lifting hundreds of Entrepreneurs into sustainable livelihoods.
We are living huge on the quote by one John F Kennedy, "Ask not what your country will do for you rather what you are doing for your country."
The Slumcode Group keep pursuing a dream!
Contacts
+254 722 634 040
+254 722 604 451
E-mail
Address
Slumcode Group
P.O. BOX 42468 – 00100
Nairobi – Kenya