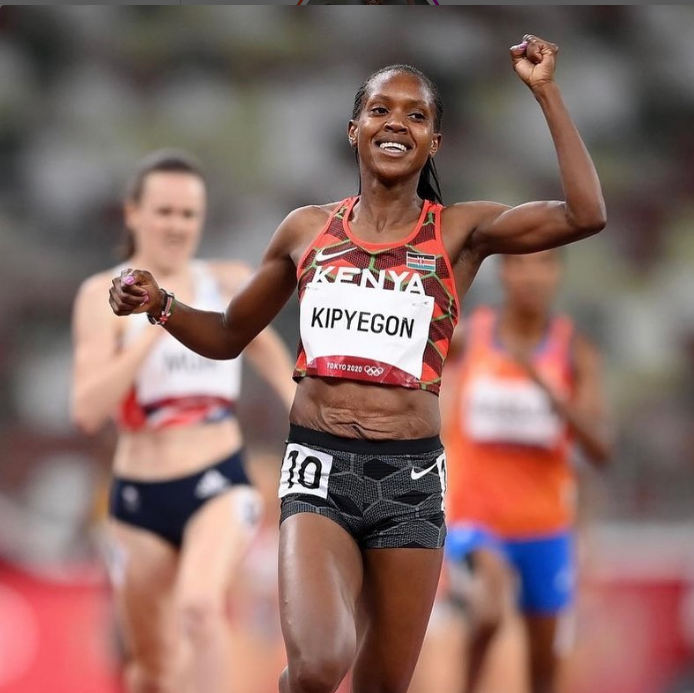 In the Tokyo Olympics 2020, Kenya created a historic moment, showcasing the prowess of its sportswomen and men, and claiming an impressive haul of four gold medals, four silvers, and two bronze medals. Among the exceptional Kenyan athletes who brought glory to the nation was Faith Chepngetich Kipyegon. Her outstanding performance in the women's 1500m race secured the gold medal, making her an Olympic champion and putting Kenya on the global map.
Faith Chepngetich first burst into the limelight back in 2010 when she displayed her talent in the World Cross Country Championship, securing an impressive fifth position. Since then, she has consistently demonstrated her abilities by participating in various prestigious events such as the World Youth Championships, London Olympics, Diamond League, and Rio Olympic Games, among others. Throughout her career, Faith has earned several gold and silver medals, solidifying her position as one of Kenya's most accomplished athletes.
Faith Chepngetich Kipyegon's profile summary
Full name: Faith Chepngetich Kipyegon
Date of birth: January 10, 1994
Place of birth: Bomet, Kenya
Hometown: IIten
Current residence: Eldoret
Nationality: Kenyan
Marital status: Married
Spouse: Timothy Kitum
Birth sign: Capricorn
Age: 27 years (as of 2021)
Parents: Samuel and Linah Koech
Daughter: Alyn Chepkor Kiprono
Height in feet: 5 feet 2 inches
Height in Centimeters: 157 cm
Weight in lb: 93 lb
Weight in kg: 42 kg
Profession: Athlete
Famous as: 1500-meter athlete
Athlete code: 14413305
Coach: Patrick Sang
Faith Chepngetich Kipyegon's bio
Born on January 10, 1994, in Bomet, Kenya, Faith Chepngetich Kipyegon's age was 27 as of 2021. She hails from the Kalenjin tribe, and her mother's name is Linah Koech, while her father's name is Samuel Koech. For her high school education, Faith Kipyegon attended Winners Girls High School in Keringet, Kuresoi South, Nakuru County.
As for her siblings, Faith is the eighth child in a family of nine children. Among her siblings, she has an elder sister named Beatrice Mutai, who also serves as her training partner. Beatrice Mutai is known for excelling in the 10km and half-marathon events, and she showcased her talent by winning a bronze medal during the African Cross Country Championships held in Cameroon.
Career
Ever since she was a young girl, she harbored a profound passion for athletics. At the tender age of 14, her Physical Education teacher assigned the class a 1km race, which she completed in 20 minutes. This marked the beginning of her journey towards a professional athletics career.
In 2010, she made her debut on the grand stage by participating in the World Cross Country Championships, competing in the women's junior race. Despite being a newcomer, she managed to secure an impressive fifth place individually, while also contributing to her team's victory, earning them the gold medal.
The following year, she returned to the World Cross Country Championships held in Punta Umbria. This time, her determination and hard work paid off as she clinched the gold medal individually, and once again, her team emerged victorious with another gold medal.
A few months later, she showcased her talent at the World Youth Championships, where she competed in the 1500m race. Undeterred by the competition, she delivered a remarkable performance and earned the prestigious gold medal.
Since those early successes, she has continued to participate in various world athletics events, consistently delivering impressive performances. Her career has been adorned with numerous accomplishments, and her records speak volumes about her dedication and skill.
Here is a glimpse of her remarkable career records:
2012 :1500 m gold medal
2012: 1500 meters gold medal
2013: Gold medal (junior race)
2013: 1500 m 5th position
2014 : 4×1500 m gold medal
2014 : 1500 m gold medal
2015: 1500 m silver medal
2016 : 1500 m gold medal
2017: 1500 m gold medal
2019 : 1500 m silver medal
2021 1500 m gold medal
2023 : She broke 3 world records 1500, 5000 and 1 Mile
Throughout her journey, she has remained an inspiration to aspiring athletes, demonstrating that with passion and perseverance, one can conquer the world of athletics.
Is Faith Chepng'etich married?
Yes, Faith Chepng'etich is a happily married woman. Her husband's name is Timothy Kitum. Faith values her privacy and chooses to keep her love life away from the public eye, so there are no specific details available about how they met or when they got married.
As for her children, Faith Kipyegon, the Olympic gold medalist, is a proud mother of one child. She has a daughter named Alyn Chepkor Kiprono, who was born in June 2018. As of 2021, her daughter is three years old.
Faith Kipyegon's beautiful Home
With her astounding net worth, Faith Kipyegon leads a life of opulence, embracing a luxurious lifestyle befitting her success. For avid followers of this exceptional athlete, the curiosity about her dwelling is natural.
Nestled in the picturesque town of Eldoret, Faith's stunning abode stands as a symbol of her accomplishments and happiness. Alongside her beloved husband and daughter, she shares the beauty and comfort of this elegant dwelling. Notably, the residence holds a strategic location in close proximity to her training camp in Kaptagat, enhancing her dedication to her sport. Faith Chepngetich Kipyegon's prominence in the women's 1500m race is unquestionable, as she has risen through the ranks to claim the title of champion and secure the coveted gold medal. As her career continues to ascend, the young and immensely talented athlete remains a driving force that consistently places Kenya on the world stage with her awe-inspiring performances. A bright future awaits her, with the promise of continued global excellen