On October 12, 2019, Eliud Kipchoge just did that when he ran the 42 km marathon in 1:59:40 to set a world record that might take some time to be broken. Earlier on, even before Eliud made his first attempt through the 2016 Nike breaking2 project, most us, including the legendary Paul Tergat thought no human being in our generation could run at that pace and speed. We were all proven wrong when with the help of 41 pace setters, the man from Eldoret smashed the record to prove that indeed no human is limited. Some things look impossible until someone dares the challenge to get it done. 
Brief bio
Age: November 5, 1984
Originally from Nandi County, Kapsisiywa village in Kenya
Current home: Eldoret
Height : 1:67 m ( 5ft 6' )
Weight 57kg
Eliud Kipchoge family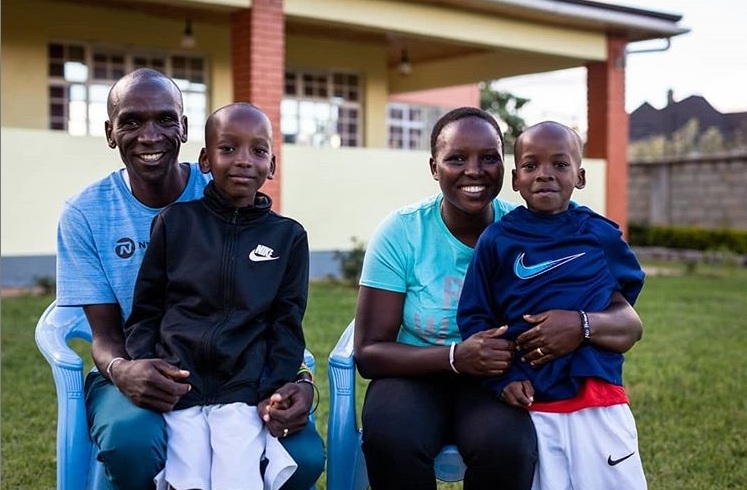 The legend's father died when he was still too young even to recollect any memories of him. His mother, Janet Rotich, therefore, raised him. He is the youngest member in the family of four. Kip is married to Grace Sugut, and together they are raising a family of three.
Lynne (12 years)
Griffin (8years)
Gordon (5 years)
Education
He sat for his Kenya Certificate of Secondary Education in 1999, and then started doing business before venturing into athletics in 2003.
Eliud Kipchoge Training
The legendary athlete, Patrick Sang, has coached him throughout his running career. Together with his colleagues, they report in the Kapsisiywa camp on Monday evening, train on Tuesday and then rest on Wednesday. Training resumes on Thursday, and then another rest comes on Friday. According to coach Sang, Saturday is the toughest training day of the week. 
Read also: Sinach (Gospel musician) biography
When he is out of the training camp for whatever reason, Eliud hits the road on his own early morning for about 20km. He has been quoted saying "If I miss one training, then I will not sleep well." 
The INEOS 159 Challenge
Kip is the current world marathon record holder standing at 2:01:39. He has been repeatedly quoted saying " no human is limited " and to prove this he took the challenge to run the 42km distance in under two hours. He first took a shot at it in 2016 in what was known as the Nike Breaking 2 in Monza, Italy. Unfortunately, he just missed the mark by 25 seconds. Two years later, the unrelenting Eliud was ready again for another challenge in Vienna in what was dubbed as the INEOS 1:59 challenge.
This time around, the man was not taking anything for granted. He invited a team of 41 professional runners to serve as his pacesetters, and they played their part well.  He is one athlete who doesn't believe in failure even though he has also failed many times. Here are his thoughts on the subject.
"Failure is all in mind" he said "I am super excited to accept the challenge by INEOS. I will break the barrier because I have spent many months preparing for this moment. When you work hard, and you believe in yourself, then anything is possible", he concluded.
Medals
He came in the limelight back in 2003 when he trounced track veterans like Kenenisa Bekele and Hicham El Guerrouj in the world 5000 meters. After that, in the 2004 Olympic games, he won a 5000 m bronze. In the 2008 Olympics, he took a 5000 m silver medal after setting his PBT of 12:46:53
Read also: Jeff Koinange biography
How did he veer into the marathon race? Well, it so happened that in the 2012 London Olympic qualifying games, Eliud did not make it. It was rather disappointing as you would imagine, but instead of walking crestfallen, his coach advised him to try his leg in the marathon race. To this day, he remains grateful for that piece of advice because it put him on the path to his present athletic glory. 
Eliud Kipchoge Networth
The legend's net worth is currently estimated at $2,500,000
Eliud Kipchoge Quotes
"Only the disciplined ones in life are free
"Don't be the best runner in the world; be the best runner in history."
I don't know where the limits are, but I would like to go there.
No human is limited
Live simple, work hard and live an honest life then you will be free
"Don't make excuses. When you have decided to do something, do it. No excuses. Then you are self-disciplined."
If your mind is really thinking positive, then you are on the right track.
Eliud Kipchoge has set a record that may take a while to break. He, is indeed a great source of inspiration to both the current and aspiring athletes. May his legacy live on !