Osinachi Kalu Joseph, better known as Sinach, is a Nigerian gospel music singer/songwriter and worship leader at Christ Embassy Church. The songstress is living proof of the belief that your talent will make you dine with kings and princes. With nine albums, over 200 songs, and several awards under her belt, Sinach is a musical powerhouse. Her mega-hit song "I Know Who I am" has been translated into multiple languages. Sinach testimony is one of walking in faith, dedicating time and effort into what you love, and taking life's big decisions at your own pace regardless of time limitations and norms set by society. Below is her bio:
Age:
Sinach was born on March 30th 1973, in Ebonyi State, Nigeria. The 46-year-old singer is the second born in a family of seven children.
Wedding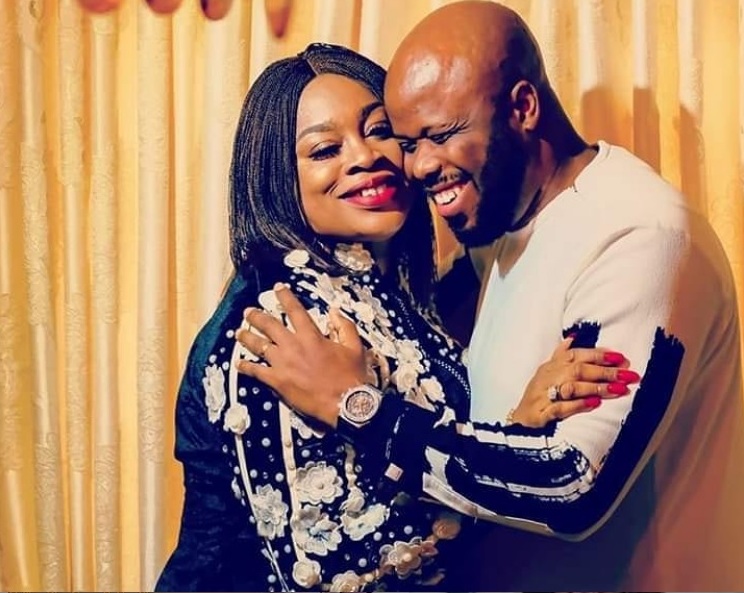 In 2014, 41-year-old Sinach tied the knot with the love of her life, Pastor Joseph Egbu, in a beautiful ceremony at Christ Embassy Church where Pastor Egbu ministers. Their close friend Pastor Chris OyaKhilome officiated the wedding ceremony.
Children
Sinach house recently grew from two to three members when she and her husband welcomed their first child, five years after they got married. Sinach baby's name and gender are yet to reveal to the public.
Career
Sinach has always had an interest in music since her childhood. She joined her church choir at the age of 16 in 1989 but only began to pursue music as a career later on in 1994. Her stage name, Sinach, is extracted from her first name Osinachi. She chose Sinach as her stage name because she found it to be catchy and memorable.
Despite kicking off her musical career in the 90s, it was only until 2008 that Sinach released her first album called Chapter one.  "This is Your Season," One of the songs featured in Chapter One, was crowned song of the year in 2008.
In the course of her thriving musical career, Sinach has received and continues to receive numerous accolades.
In 2016, the songstress received the Love World International Music & Arts Awards (LIMA) award for the songwriter of the decade. In the same year, she also received the African Achievers' Award for Global Excellence. Still, in 2016, she won the West African Artiste of the Year during Kenya's Groove Awards for the second time in a row, having scooped the same award in 2015.
In 2017, she was inducted into the Bethlehem Hall of Fame to stand toe to toe along with previous inductees like Pope Francis I.
Sinach has been listed among the 100 most influential Christians in Nigeria. The entertainment website Pulse.ng also rated her the number one female artist in Nigeria ahead of household names in the Nigerian music scene like Yemi Alade, Tiwa Savage, and Omawumi. Her album, Way Maker, also qualified for Gold Certification by the Recording Industry Association of America (RIAA) in 2018.
Sinach's music has earned her fans all over the world. She has performed in over 50 countries, including Kenya, South Africa, the USA, Canada, Trinidad & Tobago, Uganda, Jamaica, Zambia, the UK, to name a few. She was the first African gospel artiste to tour India in concert.
Songs
In the decade following the release of her first album, she went on to release eight more albums making it a total of 9 albums to date. Sinach albums are;
Chapter One
I'm Blessed
Shout it Out
From Glory to Glory
Sinach at Christmas
The name of Jesus
Waymaker
There's an Overflow, and Great God.
She has also released over 200 songs. Her most popular songs include; I know who I am, All I See Is You, He Did It Again, Great Are You, Lord, Over Flow, The Name of Jesus, Sing Alleluia, I Stand Amazed, Nothing Is Impossible, With All My Heart, and so many more.
Hit songs like Sinach The Name of Jesus, have been translated to French, Spanish, and Hindu languages.
Latest News
2019 was a great year for Sinach, who, along with her husband, welcomed their firstborn baby following five years of marriage. The news of their newborn child was announced to the world by Pastor Chris OyaKhilome during the 2019 LIMA awards in Lagos, where Sinach also scooped the song of the year award for her song "There Is an Overflow."
After Sinach gave her acceptance speech, Pastor OyaKhilome, whom she regards as her spiritual father, said, "Thank you for the song, we are all excited for what the Lord has done in your life, of course, in the life of many others standing with you here. We love you. And I told them, You just had a baby! so everybody got excited,"
Along with the recognition, Sinach also received a cash price of 100,000 USD at the event.
And that is not all; the songstress was also the first Gospel Artiste to have one of her songs hit 100 million views on YouTube. Sinach Way Maker hit 100million views in September. In Africa, this achievement has only been met by two other musical artistes, fellow compatriots Davido and Yemi Alade.
After the LIMA awards ceremony in Lagos, Sinach took to Instagram, brimming with gratitude to thank those who have supported her.
"Ohhh, what a night!! Thank you, my pastor, and Loveworld, my home church (your support is without measure)!! Incredible talents and every LIMA award winner!! What a year!!! Thank you, director, of music @evangkathy, Thank you, Jesus! Emma, I bless you! Thank you to my precious husband @joe_egbu and family and our team, which has been working so closely with me!! We love you!!" she wrote.
Sinach husband, Pastor Joseph Egbu, also took to Instagram and said, "When you have a special father, the sky becomes a stepping stone. There is nothing more than having someone believe in your dreams, even when you're not sure. Thank you so much pastor Chris, Sir. You are one of a kind. Sinach and I love you dearly, Sir.