The life and times of Sara Baartman
Looking at images of Sarah Baartman, one is easily tempted to draw a sense of wonder, awe or amusement. But that only lasts until you read the horrible details about how the heartless Europeans exploited the poor woman's unusual physical features to turn her into an object of fascination for financial gain.
Birth and upbringing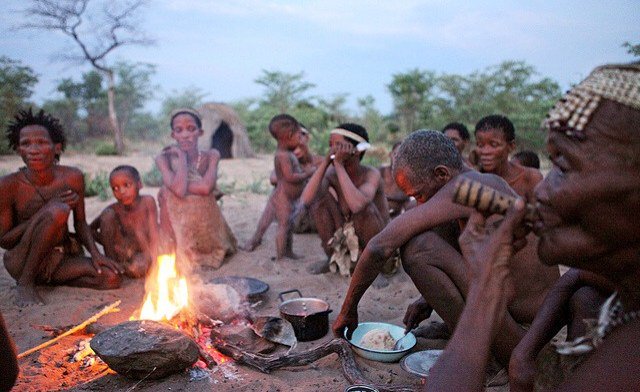 Born in 1789, Sarah was raised in Eastern Cape at the Gamtos river. She hailed from a herding community known as Gonaquasub of the KhoiKhoi tribe.
She was born on a colonial piece of land where her parents were probably employed. Her father, who was a cattle driver, died when she was a teenager, although her mother had passed on much earlier while she was only two years old.
As you would expect, things got tough after her father's death, and she got married to a Khoikhoi native who drummed for a living. Together, they had a child who didn't live for long.
At that time, the Dutch settlers came into conflict with the local Khoikhoi community, and in one of those battles, Sarah's fiancée was murdered. As the locals continued being absorbed into the colonial labour system, Sarah was sold into slavery to one Pieter Willem Cezar, who moved her over to Capetown to serve as his brother's domestic servant. It was here that her Dutch masters called her Saartjie, the Dutch version of Sara.
The 'contract' to work in Europe
It is alleged that on October 29th, 1810, Sara signed a contract with William Dunlop to accompany him, Cezar and Hendrik, to England for work. The agreement terms allegedly stated that she had signed to;
Serve as a domestic worker
Use her body to pose as an exhibit for public entertainment
She would be given her wages for domestic work, receive a percentage of the earnings from exhibitions, and be free to return to South Africa after five years.
Later on, though, doubts would be cast on whether this contract was ever signed at all. First of all, Sara was completely illiterate, and aside from that, she came from a community that had no background in writing or record keeping. The lady was, therefore, incapable of appending her signature on a document of such magnitude. Second, the Cezar brothers were broke at that time, and most scholars believe they must have cleverly trafficked Sara to exploit her physical features for financial gain.
Extra Ordinary buttocks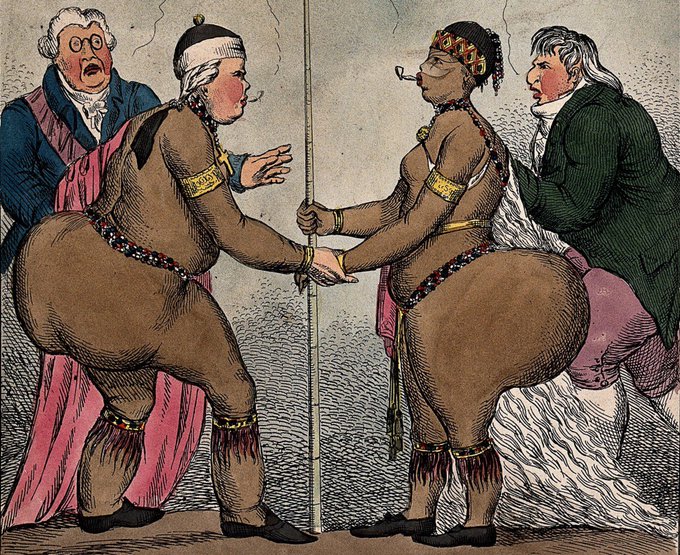 Sara's extra ordinary buttocks and her unique skin color marked her as an object of fascination by the Europeans who regarded themselves as a superior race. Dunlop knew for sure that with her bizarre rear extension, this lady would be an instant sensation in London where the curious public would pay to come in and see her on display. While in London, she was displayed half-naked in a cage measuring one meter wide and half meters high, and when word went around that she was there, people from various parts of Europe trooped in to entertain their eyes.
Human rights lobby groups intervene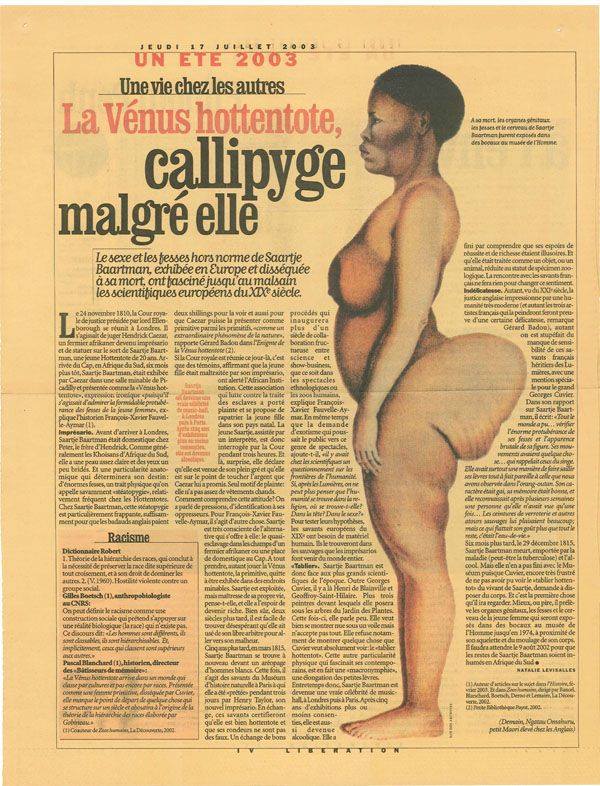 Coincidentally, during this time, the campaign against slavery was getting hot, and as a result, Sara Baartman's treatment elicited grave concerns from various human rights lobby groups. Even though her slave masters were dragged to court, their case wasn't fully prosecuted. They served the court with a document that had supposedly been signed by their slave binding or committing herself to the contract. Before the case, Dunlop also brainwashed her to testify that it was in her best interest to be in the business, and anything that Dunlop and his friends were doing to her didn't merit mistreatment.
Since the alleged contract had been forged professionally, the human rights group lost the case. Still, they managed to persuade the courts to have the agreement amended to make her entitled to better conditions like a higher stake in the profits and warm clothes.
Transfer to France
After serving for four years in London, she was moved to France in September 1814. In France, Hendrik Cezar sold her to one Mr. Reaux.  Baartman's new master showcased animals, and as you would expect, the Frenchman displayed her cage alongside his beasts.  Owing to the public fascination with Sara's body features, Reaux's daily income dramatically went up as Frenchmen and women trooped in for a view. Later on, he would move her around Paris while exhibited in the same cage with a baby rhinoceros. She would occasionally be ordered to sit, stand, and turn around in a similar way an animal is treated.
In some instances, Baartman would be displayed almost naked, only covering her womanhood with a little loincloth. And note that she would only be allowed to tie the loincloth after threatening to go on strike otherwise if her masters had their way; she was to stand there absolutely naked. She was later nicknamed Hottentot Venus
In his greed for more money, Reaux would hire out the poor lady for sex to the highest bidder.
Used as a scientific specimen
Over time, a naturalist called George Cuvier asked Reaux if he would permit for Sara to be considered a science specimen and studied. Reaux must have charged him for this after which he allowed the lady to be examined by French Psychologists, Zoologists, and anatomists
George Curvier concluded that Baartman was the link between humans and animals and hence reinforced the skewed imagination that Africans were lesser humans. 
Her death
Sara Baartman's death came in 1826 when she was only 26 years old. It is not clear what killed her, whether it was a sexually transmitted infection, alcoholism, pneumonia, or smallpox.
Mr. Curvier got permission from the authorities to make a plaster cast of her body and display it at the Musée de l'Homme, where it was preserved until 1974. It helps to mention that Curvier also put her genitals and brains in different jars and kept them beside her body.  In 1981, Paleontologist, Stephen Jay Gould would write Sara's story in his book The Mismeasure of Man where he condemned Sara's treatment and racial science as an evil ideology.
Nelson Mandela requests for her remains more than 200 years later
After ANC's victory in the 1994 elections, President Nelson Mandela requested for Sara's remains for her to be given an honorable send-off. The French government dragged its feet at this as they drafted a carefully worded bill that would cushion them against any serious claims. Her remains were finally returned to South Africa on March 6th, 2002, and on August 9th, 2002, Sara Baartman was laid to rest at Hankey in the Eastern Cape province.