Despite Kenya being among the many developing countries in the world, she has pulled her socks into making sure she has diversified her activities. Some of them have enabled her to find a place in the Guinness Book of Records: here are 7 Crazy World Records Broken by Kenyans!
Chef Maliha Mohammed, who spent the longest time in the kitchen while cooking.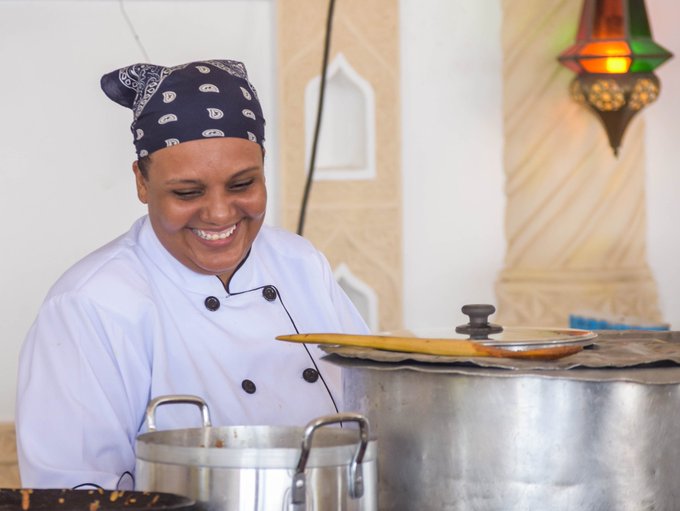 Very recently, Kenyan cook chef Maliha Mohammed made it to the newest Kenya Guinness World Records.  On August 18th, 2019, Maliha broke the record that was set by Rickey Lumpkin hailing from Los Angeles USA by surpassing his 68hrs 38mins 1sec and making it to 72 hrs continuously. With the help of a support team working in shifts, she made 400 recipes and emerged as the longest cooking chef.
2. Eliud Kipchoge, the 1st marathon runner to cross the finish line under 2 hours.
Kenyan marathoner Eliud Kipchoge busted the less than 2 hours INEOS challenge when he finished the race within 1hr 59min and 40 sec on October 12th, 2019, held at Vienna, Austria. He had tried one more time before at Monza Italy and failed when he timed 2 hours and 25 minutes exceeding the goal with 26 seconds. This time around, he made it securing him a ticket to the Guinness Book of Record.
3. Joseph Love milked the largest volume of milk within 24 hours.
In a single day, Joseph Love of Kilifi Kenya milked 531 liters from 30 cows in 1992. This marks the largest volume of milk produced manually and by hand. He saw himself enter the Guinness Book of Records, Kenya.
4. Andy Roberts, John Franshawe, Terry Stevenson set the highest same species bird count in a single day.
The trio claimed the Guinness Book record for having counted the highest number of birds while they were birdwatching. They counted a total of 342 birds of the same species in 24 hours.
5. Kimani Ng'ang' a Murage, the oldest man to join primary school.
An 84-year-old Kenyan man enrolled in class one on January 12th, 2004, and dazzled the whole world.  He enrolled in an Eldoret-based school where two of his grandchildren were, and they were ahead of him. He surprised everyone by scoring straight A's in three subjects during his first end of term test. Unfortunately, Kimani Ng'ang' a Murage passed away six years later. There hasn't been any other to beat his record in the Complete List of Guinness World Records.
6. Tegla Lorupe made triple achievements in athletics competition on different occasions.
Having retired after an excellent athletic career, Tegla is fascinating. She holds a three-time record feature in the Kenya Guinness World Records. Firstly, she smashed the record for the best time in the 20, 000 meters run in the year 2000. secondly she was the fastest in the 25,000 meters run in 2002 and lastly she delivered a record time in the 30, 000 meters race in 2003.
Read also: To what extent do ladies go to look beautiful?
7. The largest number of participants washing their hands.
It is in a Kenyan event where 19352 attendants washed their hands, paving the way for the highest number to have washed hands in an event. Those participants made history in the year 2011.
The Guinness World Record can be an interesting platform to exercise one's ability and talents, either as an individual or as a group. As much as the Guinness World Record hold is not payable, it can be a lead or the start to newer remarkable opportunities that wouldn't have otherwise been realized. Clutching onto unbreakable Guinness World Records could be extremely fulfilling and heart-warming.